Opportunity to launch a joint Brazilian-Hungarian RDI call for proposals
09 June 2022
Modified: 09 June 2022
Reading time: 2 minute(s)
On 1 June 2022, the National Research, Development and Innovation Office (NRDIO) and the Brazilian Industrial Research and Development Agency (EMBRAPII) signed a Memorandum of Understanding to intensify their cooperation in the field of research, development and innovation, creating the opportunity to launch a joint Brazilian-Hungarian RDI project funding call.
The Memorandum of Understanding (MoU) signed between the NRDI Office and EMBRAPII is the result of nearly a year of professional talks between the two institutions and is considered by both parties as an important milestone in the development of Hungarian-Brazilian relations. The MoU is expected to provide an appropriate framework for the future support of Hungarian-Brazilian RDI projects to be run in the form of consortia. The MoU was signed for Hungary by Dr István Szabó, Vice President for Science and International Affairs of the NRDI Office, and for Brazil by Prof. Jorge Almeida Guimarães, President and CEO of EMBRAPII. The online signing ceremony was attended by Zoltán Szentgyörgyi, Ambassador Extraordinary and Plenipotentiary of Hungary to Brasilia, Susan Kleebank, Ambassador Extraordinary and Plenipotentiary of Brazil to Budapest, and staff from the NRDI Office, EMBRAPII and the Hungarian Ministry of Foreign Affairs and Trade.
In parallel to the signing of the MoU, the partners also worked out the details of a joint funding scheme. A call for proposals is expected to be launched in summer 2022 to support Hungarian-Brazilian RDI projects in the fields of water management technologies, energy efficiency, information and communication technologies, smart cities and agricultural technologies. With a budget of EUR 1 million from Hungary and Brazil, each, the call for proposals builds on industry-academia partnerships, encouraging the involvement of universities, research institutes and businesses in the implementation of projects. The specific details of the call will be available soon on the NRDI Office's website and the two institutions will also organise an international pitching event to help build links between the two countries' research communities.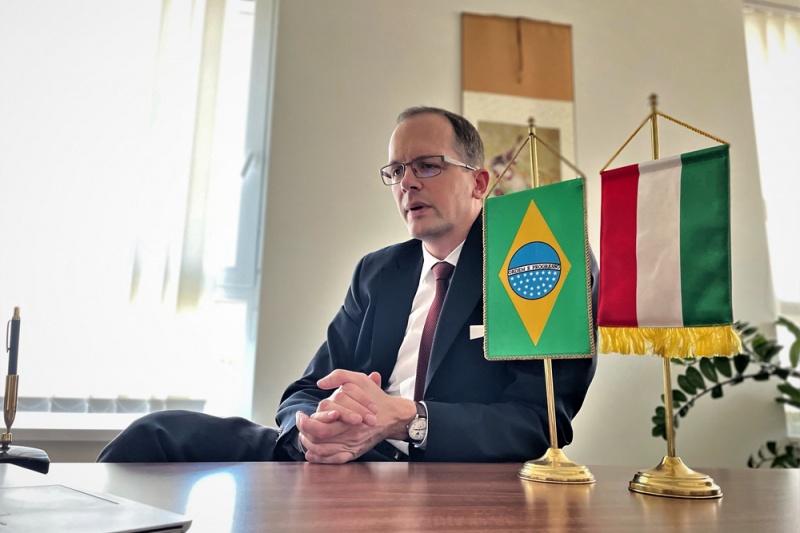 Updated: 09 June 2022