The heads of research funding organisations from five Central European countries met in Ljubljana on 6-7 September 2017. They agreed to further strengthen the scientific ties in Central Europe, particularly benefiting from a joint rich cultural heritage.
The participants expressed their commitment to support mutual collaboration among leading researchers and research institutions in this region, increase their voice at the European level, and harmonize evaluation procedures. At a later step, the partners plan to expand the network to include partners from other Central European countries.
The participants of the meeting were the Jósef Györkös, president of Slovenian Research Agency (ARRS), Alice Valkárová president of the Czech Science Foundation (GAČR), Klement Tockner, President of the Austrian Science Fund (FWF), Zbigniew Błocki, the director of the National Science Centre (NCN) of Poland and József Pálinkás, president of the National Research, Development and Innovation Office (NRDIO) of Hungary.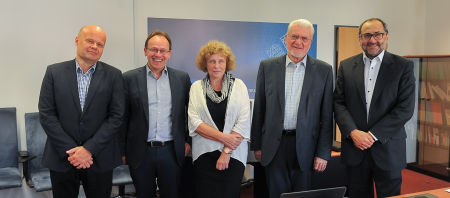 Utolsó módosítás: September 12, 2017