Robot designers and smart factory developers at the Industry 4.0 workshop in Budapest
Robot designers and smart factory developers at the Industry 4.0 workshop in Budapest
21 September 2017
Last modified: 14 December 2017
Reading time: 12 minute(s)
Jointly organised by the National Research, Development and Innovation Office with DG for Regional and Urban Policy and DG for Research and Innovation of the Commission, a two-day conference and workshop started on 20 September in Budapest to promote cooperation, consortium building and matchmaking in Industry 4.0 type projects between SMEs, industrial companies and research centres from the Visegrád countries.
The event titled Central European Cooperation for Industry 4.0 attracted participants from 14 countries and covered various intriguing topics from human-robot cooperation to the data management and process planning of smart factories.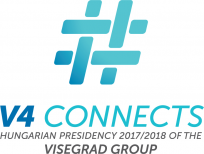 The Budapest muster of development projects resulting in innovative industrial production methods through the increased convergence of information technology and industrial automation was aimed at encouraging participation and increasing the success rate in international funding programmes.
Domestic businesses and research centres can only stay competitive if they can strengthen their regional and global relationships in the area of industrial production systems and technologies relating to high-added value industrial production – József Pálinkás, President of the NRDI Office stressed in the opening ceremony of the event.
Keynote speakers of the conference included István Lepsényi, State Secretary for Economic Development and Regulation of the Ministry for National Economy, and Vittoria Alliata di Villafranca, Head of the Directorate-General for Regional and Urban Policy of the European Commission responsible for structural funds.
The President of the NRDI Office drew attention to the fact that in 2017–18, during the Hungarian Presidency of the Visegrád Group, the promotion of joint projects and consortia of businesses and research centres from V4 countries are one of the most important priorities, and Hungary wishes to move in this direction in the area of industry 4.0 as well. József Pálinkás added: the Budapest event is a networking platform aimed at contributing to the successful participation of businesses and research centres from the countries of the region in international funding programmes. This ambition of the NRDI Office was confirmed by a report published this summer on Horizon 2020, the innovation framework programme of the European Commission, which stated that only 8.5% of participants in funded projects come from EU13 countries, winning only 4.4% of the total available budget.
At the event John Cleuren, senior expert responsible for production technology programmes at DG Research & Innovation delivers a speech on future H2020 calls for the 2018–2020 period expected to be announced in autumn 2017 with a planned total budget of EUR 1.6 billion.
The consortium-building event is attended by around 100 organisations, showing an equal distribution between innovative businesses and research institutions, which are planning new projects in the fields of smart production systems, smart quality assurance systems, virtual reality based simulation technologies, cyber security and cloud services. In addition to raising awareness to funding and networking opportunities, the event is also a place for Central European businesses and research institutions to present specific project ideas and build consortia.


József Pálinkás, president of the National Research, Development and Innovation Office







Monika Schönerklee-Grasser, Head of Evaluation and Monitoring Unit, Interreg Central Europe Joint Secretariat











Industry 4.0 workshop







Industry 4.0 workshop











Vittoria Alliata di Villafranca, Head of the Directorate-General for Regional and Urban Policy of the European Commission responsible for structural funds




PROGRAMME OF THE EVENT
20 September 2017, Wednesday

9:30-10:00

Registration





10:00-10:30

Official opening of the event: Prof. József Pálinkás, president of National Research, Development and Innovation Office (NRDI Office)



Addressing the event: István Lepsényi, state secretary, Ministry for National Economy



Smart specialization cooperation in Central Europe initiative, Vittoria Alliata di Villafranca, Director, EU Commission; Directorate General for Regional and Urban Policy (DG REGIO)





10:30-10:50

INTERREG CENTRAL EUROPE third call for proposals: Thematic focus on regional smart specialisation strategies PDF (612 KB)



Monika Schönerklee-Grasser, Head of Evaluation and Monitoring Unit, Interreg Central Europe Joint Secretariat





10:50-12:30

Presentation of relevant funding opportunities of Horizon 2020 and other funding programmes







Horizon 2020, "Nanotechnologies, Advanced materials, Advanced manufacturing and processing, and Biotechnology" programme in 2018-2020 PDF (1 253 KB)
John Cleuren, European Commission, DG Research & Innovation, Senior Expert, NMBP Call Coordinator







Presentation of other funding programmes (H2020 ICT, EUREKA, EUROSTARS, ECSEL)
NRDI Office speakers







Q & A





12:30-13:30

Buffet Lunch





13:30-18:50

Industry 4.0 – in practice:



Keynote panel on future trends, thematic sessions with industry representatives and introduction of project ideas in advanced manufacturing





13:30-15:30

Future trends of Industry 4.0 - Panel discussion with keynote speakers



Moderator: Prof. László Monostori







Introduction – Industry 4.0: New rooms for cooperation PDF (1 651 KB)
Prof. László Monostori, , director of Institute for Computer Science and Control, Hungarian Academy of Sciences; & Budapest University of Technology and Economics







Strategies for reindustrialization of European industries PDF (693 KB)
Prof. em. Engelbert Westkämper, University of Stuttgart & Fraunhofer Institute for Manufacturing Engineering and Automation IPA







Industry 4.0: An industrial view PDF (3 154 KB)
Mr. Joerg Bauer, President of General Electric Hungary







Demanufacturing and Remanufacturing Systems for Circular Economy PDF ( 5 388 KB)
Prof. Tullio Tolio: director of Institute for Industrial Technologies and Automation –National Research Council of Italy (ITIA–CNR) & University of Polytechnic, Milano







Human centred cyber-physical assembly PDF (930 KB)
Prof. Sebastian Schlund, Technical University, Wien;







Cognitive Assistance Systems in Manufacturing PDF (1 700 KB)
Mr. Lukas Merkel, Fraunhofer Research Institution for Casting, Composite and Processing Technology – IGCV





15:30-15:50

Coffee break





15:50-17:30

Thematic sessions (in two separate rooms)





1.

Human-robot cooperation - from sensors to standards



moderator: József Váncza, Institute for Computer Science and Control, Hungarian Academy of Sciences (SZTAKI)







Panel discussion, including Q & A





2.

Smart Factory: processing of production data, maintenance forecasting, manufacturing platforms, industrial internet, cyber-physical systems, High-Performance Manufacturing



Moderator: Prof. Charaf Hassan, Budapest University of Technology and Economics




Participants:





Panel discussion, including Q & A





17:30-18:50

Presentation of project ideas by the participants (3 minutes / presentation)





18:50-19:00

Watify Campaign and opportunities for collaboration and partnerships development – Eleonora Zoboli, Watify, Technopolis Group




Watify PDF (737 KB) – Eleonora Zoboli




19:00-22:00

Networking Buffet Dinner

21 September 2017, Thursday

8:30-9:00

Arrival





9:00-9:15

Wrap up from day one - Brief summary of main conclusions from the Industry 4.0 project generating workshop



Jack Engwegen – senior advisor DG REGIO, Pierre Padilla – IDEA Consult





9:15-10:15

Presentation of platforms – examples of existing cooperation; Panel discussion



Moderator: Vincent Duchene – IDEA consult





10:15-10:35

Coffee break





10:35-10:50

Introduction to Industry 4.0 matchmaking session – Eleonora Zoboli, Watify, Technopolis Group



Presentation of the Watify campaign and practical information on upcoming sessions, setting the scene for the multilateral working group meetings.





10:50-11:50

Multilateral Working group meetings driven by Watify







Group 1: Human-robot cooperation from sensors to standards
Moderator: Dr József Váncza, Institute for Computer Science and Control, Hungarian Academy of Sciences (SZTAKI);







Group 2: Smart Factory: processing of production data, maintenance forecasting, manufacturing platforms, industrial internet, cyber-physical systems, High-Performance Manufacturing
Moderator: Eleonora Zoboli, Watify, Technopolis Group





11:50-13:00

Matchmaking session driven by Watify – Eleonora Zoboli, Watify, Technopolis Group



Pre-arranged exploratory one-to-one meetings – based on a personalised agenda (max 30 min / meeting) with participants from Austria, Bulgaria, Croatia, Czech Republic, Germany, Hungary, Italy, Poland, Slovakia, Slovenia, Spain.





13:00-14:00

Buffet Lunch

Updated: 14 December 2017