Drones and anti-drone interceptors are taught to think
Drones and anti-drone interceptors are taught to think
26 July 2016
Modified: 15 July 2019
Reading time: 3 minute(s)
As a result of the research-development project led by BHE Bonn Hungary Elektronikai Kft, unmanned aerial vehicles (UAVs), more commonly, the drones will become faster, safer and capable of even more tasks. The internationally remarkable results of the three-year project were achieved with a funding of more than HUF 500 million (nearly EUR 1.5 million) received from the Research and Technology Innovation Fund.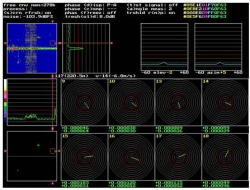 Radar tesztprogram

Drones nowadays are applied for an increasing number of tasks in the course of which they face the complex mathematical and technological challenge to identify objects appearing unexpectedly and their likely trajectory during such missions. Collision avoidance is essential to prevent substantial material damage and personal injuries, however, targeted solutions of intentional collisions are used more and more frequently for security and defence purposes, marking a new field of applications for the project results.
The new system developed by the Hungarian consortium combines complex signal and image processing with a new method to drastically improve the collision avoidance system of robot vehicles: the drone – or the anti-drone interceptor respectively – processes information collected from various sources by "thinking and becoming smarter". The BHE Bonn Hungary Elektronikai Kft. in cooperation with the Institute of Technical Physics and Materials Science, Centre for Energy Research of the Hungarian Academy of Sciences, three departments of the Budapest University of Technology and Economics and the ASTRON Informatikai Kft developed an integrated solution using radar, video and telecommunications technologies which enables drones not only to map their environment but also to interpret and use the collected information based on cognitive mechanisms and feedback. At the same time, reversing this process enables to detect and avoid "unwelcome" drones and even to force a controlled landing, if necessary.
The targeted objectives of the project have been achieved by developing the following fields and systems:
special 24GHz 4D MIMO radar test equipment with modular subsystems

modern 20 MP video signal processing with smart image learning

robust OFDM air-to-ground telecommunications with range 50 percent extended

Linux-based integrated processing, simulation and design software

theory and algorithms of stochastic non-parametric radar signal processing

cooperation skills and navigation of an UAV fleet, theoretical and experimental examinations

As a result of the experimental development, the navigation and content generating capabilities of the drones have drastically improved. Collision avoidance tests combined with learning have proven that the environmental analysis of radar-based video navigation (featuring a range of several hundred meters and an accuracy of one centimetre) has contributed to the creation of an efficient system which can be used for various purposes of drone missions. This is an important milestone in the development of unmanned aerial vehicles. By reducing the reaction time of drones, they become capable of solving complex and difficult tasks, such as flying in formation, mutually supporting each other.
There is also further potential in the utilisation of the present intelligence system as a powerful long-range interference system or a modern combination of universal sensor and management system which can be successfully down- and up-scaled within the frequency range.
Partner institutions:
Funded project: KMR_12-1-2012-0008
Cognitive methods strengthen the collision avoidance system of vehicles
Updated: 15 July 2019