NRDI Office supports all stages of scientific careers
29 June 2021
Modified: 07 July 2021
Reading time: 9 minute(s)
The National Research, Development and Innovation Office (NRDI Office) supports all stages of scientific careers, from promising young researchers to internationally experienced researchers, through its targeted fellowship programmes and thematic calls. Among the proposals, the New National Excellence Programme (NNEP), with an annual budget of 4 billion HUF, specifically supports the next generation of researchers, while Frontline – Research Excellence Programme is for the best: from a budget of HUF 3 billion for 5 years, up to HUF 300 million can be awarded to internationally competitive research projects in Hungary.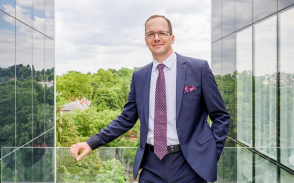 Dr István Szabó
Vice President for Science and International Affairs of the National Research, Development and Innovation Office and member of the National Research Infrastructure Committee

Up to HUF 300 million can be granted to experienced researchers under the Frontline – Research Excellence Programme. It is open for up to 5 years to applicants conducting scientific research in Hungary.
The NNEP – Bolyai+ Call for Research Scholarship Applications for Young Teachers and Researchers provides one-year funding for young teachers and researchers who are also recipients of the János Bolyai Research Scholarship of the Hungarian Academy of Sciences.
We asked Dr István Szabó, Vice President for Science and International Affairs of the National Research, Development and Innovation Office, member of the National Research Infrastructure Committee, about the two above-mentioned proposals.
What is the amount available under the Bolyai+ Call for Research Scholarship Applications for Young Teachers and Researchers and who can apply?
The Bolyai+ grant scheme is open to young researchers who are recipients of a Bolyai grant from the Hungarian Academy of Sciences. A further prerequisite is that the applicant must be a researcher or lecturer at a higher education institution of a NNEP host institution. This is important because this condition does not apply to all Bolyai scholarships, at least as we have seen from the number of applicants.
"The budget is set so that anyone who is a Bolyai scholarship holder can apply for it during the period of the Bolyai+ scholarship." Each prospective beneficiary will receive a net grant of HUF 200,000 per month for twelve months.
I would like to note that the grant amount of Bolyai Scholarship has so far been HUF 124,500, which will be increased to HUF 250,000 net from next year on the initiative of the NRDI Office, thus further strengthening the competitiveness of this already highly prestigious scholarship.
Can this funding help keep young researchers and teachers in the region?
Currently, research career funding is a system that follows a young researcher through to the top researcher level.
Available at the point of entry into research, our "Power up your Talent!" scheme is designed to support young talented people who are doing well in secondary school, so that they can focus more on their studies.
Last year, we also introduced the "Power Up Science!" scheme to support those who obtained their PhD/DLA degree after January 2018, but are not yet able to produce the scientific results to win larger (e.g. Hungarian Scientific Research Fund) grants, thus bridging this very difficult period for early career researchers.
"With these two steps, we have now reached the point where from the moment someone enters higher education until they become a senior researcher, they can apply for multiple sources of funding. Thus, we can say that the funding schemes of ITM and the NRDI Office cover the entire research career."
Of course, these calls require applicants to have some form of excellence: either a scientific publication that gives them international visibility, or a move towards commercialisation, either through patents or by becoming involved in an innovation.
The call also revealed that applications can be sent from a wide range of universities. What is the experience, where are more applications coming from? How are rural institutions performing?
There is a roughly even split between universities in rural areas and those in the capital.
"The big institutions obviously have more Bolyai fellows, but the smaller ones are also represented, so the usual proportions are there."
In the context of rural areas vs. Budapest, the difference is not necessarily pronounced, but generally speaking, research and development in Hungary is Budapest-centred. This is not a unique phenomenon in Europe either, if you look at the Czech Republic or France, for example, you can see that R&D spending is concentrated in the central region, just like in our country.
To compensate for the predominance of Budapest, we want to ensure that applications can only be submitted through higher education institutions, so that we can distribute R&D resources more evenly.
What is the budget available for the Frontline – Research Excellence Programme?
We have made a major change to the Frontline – Research Excellence Programme. So far, the Frontline programme has helped those who were planning to apply to the European Research Council (ERC) as senior researchers, so we are really talking about people who have already proven themselves on the international scientific stage.
However, a few years ago we introduced the possibility to resubmit a previously submitted proposal if you either have an ERC project in the pipeline or did not receive funding because ERC calls ran out of money in the previous year. All these applications were excellent, but they just didn't fit within the budget. This is not a specific category, as they are registered separately in the European Union.
When evaluating this year's Frontline applications, we will assess whether the research group the researcher applied with is still functional, and whether they are likely to be able to produce meaningful research results.
"If we can see from international results that a research team can take a well-established theme to the long term, we support them. In this case, one of the highest amounts in the domestic support scheme, HUF 300 million, can be awarded for five years."
This is worth comparing with the Hungarian Scientific Research Fund (OTKA) scheme, which has a maximum funding of around HUF 48 million.
What segment were the applicants from? How many projects will receive funding?
There was no thematic restriction on what kind of applications we were looking for, the only criterion we set is the availability of objective evidence confirming international excellence. However, the number of applicants was limited and we set the entry threshold high. This year, eight research projects will be funded.
Among the current winners, it is clear that a wide range of research areas are represented in the programme, from optical circuits, through astronomy-related matters to health and mathematical research.
"And this shows the beauty and diversity of science, that not only are there certain preferred fields of study, but there is also a curiosity among researchers that can lead to breakthrough results in a particular field."
Are there any success stories that stand out among the applications?
This is a difficult question. We believe that such research is successful when it is visible in the international arena. This is practically always the case. However, the visibility of science is always a complex issue.
"What is considered a major breakthrough by academics or policy makers is often difficult to communicate to the public."
It is definitely a success story that every year the number of people interested in our research proposals increases.
"Every year, we are able to attract more and more people to the world of research, and interest in science is growing."
A good example of this was the recent National Conference of Student Research Societies (OTDK), where more students than ever before competed, despite the fact that it was organised online.
Speaking of the international scene, how much money can Hungary receive for R&D in the next seven-year EU budget cycle under Horizon Europe?
Horizon Europe has a substantial budget of EUR 95.5 billion. Within this budget, however, there are no dedicated funds earmarked for individual countries, including Hungary, but there is serious competition to decide which projects will receive funding, based primarily on scientific, technological and innovation excellence.
Statistics from the previous framework programme, Horizon 2020, show that applicant organisations from countries that joined the EU after 2004 received only 5% of the total funding, while countries that have been members of the EU for longer were able to receive 86%.
"But it should be clear to anyone that talent is not distributed so disproportionately. We have therefore set a target to significantly increase the 0.65 percent share of the Horizon 2020 budget - granting us the third best performance among the countries that joined the EU after 2004 - by 2027."
The target is to achieve a budget ratio of 2.18% (in proportion to the size of the population) in 2027. The NRDI Office is committed to providing all the support needed for a more successful participation, and the staff of the Horizon Europe Network of National Contact Points coordinated by the Office organise regular information events and workshops to present the opportunities for applicants, and provide personalised application advice to domestic applicants.
"We support the creation of high-quality applications with application writing trainings, and, for innovative companies we offer mentoring programmes and we plan to launch a number of funding schemes to help prepare framework programme calls, build relationships and provide domestic co-financing for co-financed schemes."
But successful Hungarian participation in the framework programme is not only important in terms of attracting funding, but is also an excellent tool for strengthening the international embeddedness and networking of the Hungarian scientific and innovation community, and for increasing the visibility of scientific excellence.
Source: novekedes.hu
Updated: 07 July 2021