Vice President for Business Innovation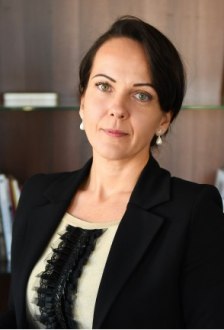 Vice Presidents assist the President's work and perform their duties under the supervision of the President. Vice Presidents are appointed by the Minister responsible for the coordination of science policy. Term of their appointment is 5 years, one can be appointed for maximum two terms. Vice Presidents supervise the activities of their subordinated organisational units, the heads of which report to the Vice President. The work of the President is assisted by two Vice Presidents in the NRDI Office: the Vice President for Science and Innovation Affairs, and the Vice President for Business Innovation.
Vice President for Business Innovation

As a coordinator of the Hungarian funding system of innovation, she oversees the implementation of relevant calls announced from the domestic NRDI Fund, as well as the professional and financial follow-up and monitoring of funded projects from their contracting until termination. In relation with innovation-targeted operational programmes financed from EU sources, she contributes to performing professional and executive tasks which fall within the NRDI Office's cognisance. In order to have the financial resources of innovation calls efficiently utilised, she supplies applicants with professional orientation, operationally controls the development of innovation ecosystem at universities and regional innovation initiatives, builds and offers a quality-focused portfolio of services for actors throughout the RDI sector to broaden the social and economic base of Hungarian innovation. Her role includes participation in shaping national policies such as the RDI Strategy and the Smart Specialisation Strategy of Hungary, and the preparation of the annual program strategy and actions of the NRDI Fund.

Higher education
2004: certified economist, University of West Hungary, Faculty of Economics

Professional experience
from 1 October 2018: Vice President for Research and Development, National Research, Development and Innovation Office

2017–2018: Director of Development, Neumann János Nonprofit Ltd.

key collaborative partnerships, programme management

expansion of business development activities supporting ICT start-ups

implementation of a finance and control environment supporting ICT start-ups

implementation management of the programme supporting the international market entry of ICT start-ups

coordination of calls for proposals and the modification of funding agreements




2016–2017: Professional Leader of a priority government programme, Governmental Information Technology Development Agency

operative planning of a programme aimed at the creation of a mentor network supporting the international market entry of ICT start-ups; building up the organisation; coordination of professional activities

coordination of the regional network of coordinators, training, communication and international business development

budgeting, budget utilisation, ensuring the professional compliance of funding programmes

participation in the preparation of and inter-ministerial consultations about the call notice (product specification) of the "Dedicated seed and pre-seed investment fund for ICT start-ups to develop new ideas and enter new markets" venture capital programme




2011–2015: Head of Department, National Innovation Office, Strategy Department

management of the development of the National Smart Specialisation Strategy (S3)

organisation of public consultation on the national RDI strategy; coordination of implementation

coordination of the preparation and selection process of the Accredited Technology Incubator funding programme; consultation with partner ministries and RDI stakeholders

coordination of the preparation of strategic RDI sectoral chapters (ICT, healthcare, agriculture, energy, environment, mobility, automotive industry, logistics)

coordination of the preparation of the review on the Research and Technology Innovation Fund

coordination of the set-up and operation of a mentor programme (involving 100+ mentors)




2008–2011 Auditor, State Audit Office, Directorate Supervising the Central Level of Public Finances

audit of final accounts (Ministry of Education and Culture, Ministry of National Resources; audit of chapter managed appropriations)

audit of budget planning (Ministry of Education and Culture, Ministry of National Resources; audit of chapter managed appropriations)




2007–2008 On-site Auditor, MAG Hungarian Economic Development Centre

on-site audit of projects funded under Priorities 1–4, Economic Competitiveness Operational Programme, National Development Plan 1

on-site audit of projects funded under Priorities 1–4, Economic Development Operational Programme, New Hungary Development Plan

participation in the investigation of suspected misuse of funds




2005–2007 Auditor of funded projects, Office of R&D Funding and Research Utilisation

on-site audit of projects funded under Priority 1 (research, development and innovation), Economic Competitiveness Operational Programme, National Development Plan 1

audits in relation to the pre-decision and implementation period of funded projects

preparation of official positions




Language skills
English – conversational

German – conversational

Personal data
Date of birth: 21 November 1979

Updated: 23 December 2021