Dr. Zoltán Birkner
Dr. Zoltán Birkner
24 July 2018
Last modified: 09 December 2019
Reading time: 6 minute(s)
The NRDI Office is lead by the President, who shall be appointed and dismissed by the Prime Minister. Term of the appointment is 5 years, one can be appointed for no more than two terms. The President represents the NRDI Office in matters of research, development and innovation in front of the Government and the National Assembly and represents the Government in matters of research, development and innovation in international organisations The President is responsible for preparing the annual programme strategy for the NRDI Fund and the high quality implementation of the objectives and tasks defined therein.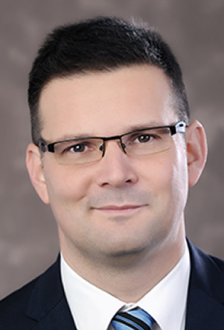 A Prime Minister's Resolution 101/2018. (VII. 23.), dr. Zoltán Birkner is appointed as the President of the National Research, Development and Innovation Office for a term of 5 years, as from 1 July 2018.
Dr. Zoltán Birkner's professional career includes thorough experience in higher education as a lecturer and education organiser, in scientific life as a researcher of innovation management, and in business sector as a manager dealing with organisational and business development and industrial research and development projects.
As head of the Nagykanizsa Campus of the University of Pannonia, his core missions became to build industrial and business relations enabling development, securing sound financial management and providing new market opportunities, as well as to implement joint educational and research programmes in the region. As the person in charge of the "improving innovation capabilities" chapter, he contributed to the strategic programme being decisive for the development of Nagykanizsa. Upon his personal initiative, the Soós Ernő Water Technology Research and Development Centre was established in 2014, representing one of the best practices for successful innovation cooperation between Hungarian middle-sized towns, SMEs and universities.
In 2014, as the head of the preparatory group of the National Smart Specialisation Strategy (S3) in Zala county, he successfully addressed and integrated regional business leaders, the managements of intermediary companies and dominant actors in the public administration and education sector. Due to his efforts, several proposals from Zala county were adopted and incorporated in the national S3 strategy.
Throughout his career, he has been actively involved in international programmes fostering regional cross-border and transborder cooperation in economic, scientific and professional matters, primarily with Croatia, Slovenia and Austria. He has been member of the Innovation Council of the Hungarian Chamber of Commerce and Industry since 2017.
Higher education
2010: PhD – Doctoral School of Management Sciences and Business Administration, University of Pannonia – innovation management, assessment and development of the innovation capacity of SMEs

1998: College of Finance and Accountancy, Budapest – economist in finance

1994: Faculty of Humanities, Kossuth Lajos University – teacher of history and geography

Professional experience
from 1 July 2018: President – National Research, Development and Innovation Office

2008–2018: Head of Campus – Nagykanizsa Campus, University of Pannonia

2015–2016: organisational development manager & innovation consultant – Hidrofilt Kft.

2014–2018: Head of Research Centre – Soós Ernő Water Technology Research and Development Centre, University of Pannonia

from 2010: Associate Professor – University of Pannonia

2001–2008: Acting Head of Campus – Nagykanizsa Campus, University of Pannonia

1994–2001: secondary school teacher – Batthyány Lajos Grammar School, Nagykanizsa

Public activities, membership in professional organisations
from 2017: member of the Innovation Council of the Hungarian Chamber of Commerce and Industry

2014: facilitator of the development of the National Smart Specialisation Strategy (S3)

from 2005: board member of the Nagykanizsa local organisation of the Hungarian Economic Association

from 2009: secretary of the Communications Working Committee of MTA VEAB

Prizes and awards
2019:Szent György Memorial Meda
2018: Knight's Cross of the Hungarian Order of Merit

2013: Harsányi János Prize – Faculty of Economics, University of Pannonia

2011: Harsányi István PhD Prize – Hungarian Association for Innovation

2009: Hungarian Education Memorial Award – Ministry of Education and Culture

2009: Pro Universitate Pannonica Grand Silver Merit Award – University of Pannonia

2007: VEAB Memorial Award – Veszprém Regional Committee of the Hungarian Academy of Sciences (MTA VEAB)

2004: Honourable mention by the Rector – University of Pannonia

1988: Junior Geographer Prize (1st place of the National Secondary School Academic Competition in Geography)

Language skills
English – conversational

German – conversational

Publications in Hungarian and English, research projects
Innovation ability measurements of local tourism organisations / Máhr T.; Birkner Z.; Berkesné Rodek N., 2018

Ipar 4.0, az új innovációs környezet / Birkner Z., 2018

Industry 4.0 – opportunity or challenge / Birkner Z., 2018

Az innováció újra értelmezése: Ipar 4.0 / Birkner Z., 2018

Marketingkampány a "fájdalmas hónapok" feledtetéséhez – kríziskommunikáció a turizmusbiztonság visszaállításában / Marton Zs.; Birkner Z.; Keller K., 2017

Települések új dimenziói / Máhr T.; Birkner Z.; Berkesné Rodek N., 2017

Települések a digitális térben – negyedik dimenzió / Máhr T.; Birkner Z., 2017

Green hopes: Spatial and Settlement Development Operative Programs in the Programming Period 2014-2020 / Máhr T.; Birkner Z.; Berkesné Rodek N., 2017

The Opportunities of Small and Medium-Sized Cities in the Globalizing World / Birkner Z.; Máhr T.; Berkesné Rodek N., 2017

Települési- térségi identitás / Birkner Z., 2017

Changes in Responsibilities and Tasks of Universities in Regional Innovation Ecosystems / Birkner Z.; Máhr T.; Berkesné Rodek N., 2017

Köldökzsinór: A Pannon Városok Szövetségéhez tartozó városok sikerének és megtartó erejének kulcstényezői / Berkesné Rodek N.; Birkner Z.; Ernszt I., 2017

Human capital management as one of the fundamental elements of the CSR concept / Berkené Rodek N.; Birkner Z., 2017

CSR activities of the tourism providers / Berkesné Rodek N.; Birkner Z.; Máhr T., 2017

Corporate Social Responsibility in the Water Industry Sector / Berkesné Rodek N; Birkner Z.; Máhr T., 2017

Let's do it differently!? – Question or warning; Innovation in Tourism / Máhr T.; Birkner Z.; Berkesné Rodek N., 2016

The Role of Transferring Knowledge in Case of Non-Business Sector Projects / Kaszás N.; Keller K.; Birkner Z., 2016

Hasonlóságok és különbségek a pályázati projektek sikerében – az Ausztria-Magyarország határon átnyúló együttműködési program sikervizsgálata / Kaszás N.; Birkner Z.; Németh K., 2016

The relationship between universities and social innovation potential / Birkner z.; Máhr T.; Berkesné Rodek N., 2016

Interpreting innovation – in another way / Birkner Z.; Máhr T., 2016

The role of local governments and hotels in sustainable tourism / Berkesné Rodek N.; Birkner Z.; Máhr T., 2016

On the way towards a sustainable and responsible city – decision support approach for municipalities / Berkesné Rodek N.; Birkner Z.; Máhr T., 2016

Alulról felfelé, vagy felülről lefelé? – Innováció a turizmusban / Máhr T.; Birkner Z.; Berkesné Rodek N., 2015

A felsőoktatási intézmények előtt álló kihívások a magyar-horvát határ mentén Kaszás K; Keller K; Birkner Z., 2015

Cross-border Cooperation between Hungary and Croatia: Connecting People and Traditions / Ernszt I.; Birkner Z.; Keller K., 2015

Az intelligens szakosodás, mint az innováció új területi szemlélet / Birkner Z.; Máhr T., Berkesné Rodek N., 2015

A társadalmi felelősségvállalás és a térségfejlesztés közötti kapcsolat / Berkesné Rodek N.; Birkner Z.; Máhr T., 2015

A Sustainable and responsible operation in tourism / Berkesné Rodek N.; Bikrner Z., Ernszt I., 2015

A települési energiaellátás innovációs kihívásai / Németh K.; Péter E., Birkner Z., 2013

Personal data
Date of birth: 9 August 1971

Marital status: married, father of two children

Updated: 09 December 2019