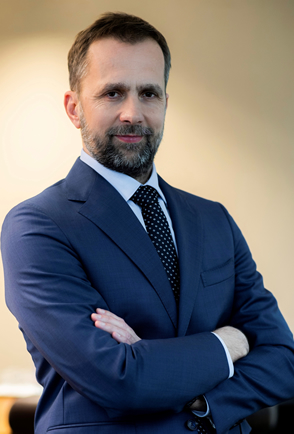 Ádám Kiss, President

According to the decision of Minister of Culture and Innovation János Csák, Ádám István Kiss is the new President of the National Research, Development and Innovation Office as of 7 March 2023. Under the professional guidance of the Ministry of Culture and Innovation, as the President of the Office, he participates in the renewal of the Hungarian innovation system, in the development of funding schemes, programmes, research and strategic materials for the development of the ecosystem, and coordinates the use of the resources of the National Research, Development and Innovation Fund.
Ádám István Kiss was born in 1975 in Gyöngyös. After graduating from the Gárdonyi Géza Cistercian Grammar School in Eger, he obtained his diploma at the Budapest University of Economics in 1999. He was a scholarship student at the School of Finance of the State University of New York, Oswego.
He started his professional career as an investment banker, and between 1998 and 2006 he was Deputy Director and later Board Member of CA IB Tőkepiaci Tanácsadó Rt., where he participated in major privatisation and other acquisition-related transactions. In 2001, he spent six months in London working in the energy team of CA IB.
In 2006, he became the Deputy CEO of Díjbeszedő Holding Zrt., a private company providing complex billing services to the Budapest utilities. From 2006 to 2010, as Deputy CEO for Strategy and Business Development at Díjbeszedő Holding (DBH), he led the development of the strategic plans for the entire Group and their implementation at project level. From 2010 to 2017, he was CEO of the company's largest subsidiary, the Díjbeszedő Factoring House (DBF). Under his leadership, DBF has grown to become Hungary's number one retail debt-purchasing financial institution.
Between 2017-2022, he acquired minority stakes in IT and fintech companies as a financial investor.
Since April 2022, he works as Special Advisor at the Ministry of Culture and Innovation. From March 2023, he is the President of the National Research, Development and Innovation Office
In his spare time, he helps the operations of social organisations. Between 2015-2023, he is the Chair of the Board of Trustees of Mosoly Foundation, which heals chronically ill and traumatised children through story and art therapy and experiential activities.
Currently living in Budapest, he is married and the father of three children.
Updated: 02 May 2023