Vice President for Science and International Affairs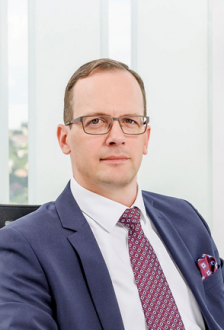 Vice Presidents assist the President's work and perform their duties under the supervision of the President. Vice Presidents are appointed by the Minister responsible for the coordination of science policy. Term of their appointment is 5 years, one can be appointed for maximum two terms. Vice Presidents supervise the activities of their subordinated organisational units, the heads of which report to the Vice President. The work of the President is assisted by two Vice Presidents in the NRDI Office: the Vice President for Science and Innovation Affairs, and the Vice President for Business Innovation.

Vice President for Science and International Affairs
As a coordinator of the Hungarian funding system of scientific research, he oversees programmes to boost institutional excellence, calls for proposals to support basic research projects of individual researchers and research teams and further flagship initiatives such as the National Conference of Student Research Societies and the New National Excellence Programme, to promote widening participation of future generations. He is also responsible for science diplomacy to build active relations with science communities worldwide as well as organising national activities related to European research and innovation framework programmes (Horizon 2020, Horizon Europe) and assist Hungarian actors with professional background and funding to get successfully involved in bilateral science and technology (S&T) collaborations and joint transnational initiatives. He coordinates Hungarian membership in large international research infrastructures and professional organisations and also oversees the optimisation of domestic research infrastructure facilities. His role includes participation in shaping national policies such as the RDI Strategy and the Smart Specialisation Strategy of Hungary, and providing professional data and analyses to support evidence-based policy-making decisions and interactions.


Higher education
2018: PhD, economic sciences, Enterprise Theory and Practice Doctoral School, University of Miskolc

2002: economist, majored in Organisation and Management studies, University of Miskolc

Professional experience
from 1 October 2018: Vice President for Innovation and General Affairs – National Research, Development and Innovation Office

2017-2018: Head of Department, Ministry of Human Capacities, Department of Higher Education and Research Strategy

elaboration of the Higher Education Institutions' Excellence Programme, coordination of the New National Excellence Programme

design and monitoring of the EFOP schemes

elaboration and implementation of policy measures and sectoral strategies related to dual system in higher education

Secretariat of the National Scientific Students' Associations Conference

2011-2016: Head of Department, National Innovation Office later National Research, Development and Innovation Office as legal successor, Department of Analysis and Information Systems

analyses on Hungarian R&D and innovation, construction of related databases

participation in elaborating the RDI Strategy and the National Smart Specialisation Strategy (S3)

leader of the National Research Infrastructure Survey and Roadmap project

preparation of the S3 paper of "Hungarian participation in major research infrastructure projects of the European Strategic Forum of Research Infrastructures" founding the process of Hungary's joining international research infrastructures

between 2015-2016 national representative at the European Strategic Forum of Research Infrastructures (ESFRI) and in various international research inrastructures such as CERN CMS, European Social Survey, European Spallation Source etc.

coordination of Hungary's joining international research infrastructures – as a result, Hungary has become member in 11 international research infrastructures as opposed to its 3 memberships hold previously

2008-2011: project leader, Governmental IT Development Agency

2005-2008: consultant, Catro Management Consultancy Ltd.

2003-2005: call management officer, Ministry of Education, Directorate of Fund Management

Prizes and awards
2021: honorary associate professor, MATE Hungarian University of Agriculture and Life Sciences
2020: Medal for Hungarian Prosperity
2019: National Council of Student Research Societies, Golden Insignia
2001: 1st place in the "Organisation/Management, General and Strategic Management" Section of the National Conference of Student Research Societies

Language skills
English – conversational

German – conversational

Publications in Hungarian and English, research projects
Deák Csaba, Szabó István
Assessing Cooperation between Industry and Research Infrastructure in Hungary
Technology Innovation Management Review, 2016. 6 (7). pp. 13-20. ISSN 1927-0321

Szabó István, Deák Csaba
We have research infrastructure - can we cooperate?
XXVI ISPIM Conference: Porto, Portugal (2016)
Blending Tomorrow's Innovation Vintage - ISBN 978-952-265-929-3

Szabó István, Deák Csaba
The Importance of Research Infrastructures for Industry: A national survey
ISPIM Innovation Forum: Boston, USA (2016)
Charting The Future Of Innovation Management - ISBN 978-952-265-927-9

Szabó István, Lévai Péter
Európa tízéves tudományos útiterve
MAGYAR TUDOMÁNY 2016:(5) pp. 563-572. (2016)

Szabó István
Technology transfer and governmental measures
In: Keresztes Gábor (szerk.) Tavaszi Szél 2015 / Spring Wind 2015 Konferenciakötet: II. kötet. 659 p. EKF Líceum Kiadó, 2015. pp. 559-569. (ISBN:978-615-5250-11-8)

Szabó István, Mészáros Ádám
A sokféleség rendszertana
KÜLGAZDASÁG 1:(1) pp. 96-103. (2014)

Szabó István, Csőke Attila, Mészáros Ádám, Ifju-Keresztes Dominika, Rapkay Bence, Imre Beáta Orsolya
KFI Tükör: 2. Nők a KFI területén
Nemzeti Innovációs Hivatal, 2013

Szabó István, Csőke Attila, Eglesz Gabriella, Imre Beáta Orsolya, Flamich Tibor, Kovács Eszter, Mészáros Ádám, Rapkay Bence
KFI Tükör: 3. A KFI területi jellegzetességei Magyarországon
Nemzeti Innovációs Hivatal, 2013

Szabó István, Csőke Attila, Flamich Tibor, Ifju-Keresztes Julianna, Mészáros Ádám, Rapkay Bence
KFI Tükör: 1. Az IKT szektor helyzete
Nemzeti Innovációs Hivatal, 2012

Personal data
Date of birth: 18 February 1978

Marital status: married, father of two children

Updated: 11 January 2022