University-industry cooperation for molecular diagnostics & biomarker discovery
28 August 2018
Modified: 07 September 2018
Reading time: 9 minute(s)
Modern medicine relies more and more on knowledge acquired in molecular biology and genetics. Therefore, the research into molecular markers revolutionising the diagnosis of diseases has also become extremely timely both for academic basic research and for pharmaceutical research. In order to harmonise the efforts of discovery research and industrial pharmaceutical developments, the Molecular Biomarker Research and Service Centre of Eötvös Loránd University (ELTE Biotechnology HEICC) was established, about the goals and achievements of which, we interviewed Professor Imre Kacskovics, head of Department of Immunology of Eötvös Loránd University (ELTE).
Imre Kacskovics, managing director of CRU Hungary
The calls "Research infrastructure development of Higher Education and Industry Cooperation Centres (HEICC) (GINOP-2.3.4-15)" and "Centre for higher Education and Industrial Cooperation – Research infrastructure development" (FIEK_16) have been providing funds for consortiums built on effective and stable industry-university partnerships to develop research and development relations for several years now. The purport of the funding scheme is to harmonise academic and industrial research and development, and to accelerate the practical implementation of research results in new institutional frameworks. In the course of this, it aims to approximate university education to the demands of business operators and to promote the upskilling of business experts. All this in a fund scheme that is mindful of excellence and management stability. Institutionalised cooperation provides a practicable and result-oriented framework to innovation activities.
On account of these two calls, five new research and development centres were created in Győr, Kaposvár, Miskolc, Kecskemét and Debrecen from a HUF 26.8 billion EU fund, while from Hungarian resources, three Central Hungarian consortiums, three projects set up under the management of ELTE, Budapest University of Technology and Economics (BME) and Szent István University, were awarded a total of HUF 8 billion in NRDI Funds. At ELTE, the HEICC was established specifically for the purposes of identifying molecular biomarkers of various diseases and implementing such knowledge in medical practice. The centre is managed by the university but the Research Centre for Natural Sciences (RCNS) of the Hungarian Academy of Sciences (HAS), Servier Research Institute CCLS and CRU Hungary Ltd. are also among its members.
– Submitting an application to the call to enable the establishment of HEICC was originally the idea of Péter Kovács, managing director of CRU Hungary. He informed us that Hungary lacks a molecular biomarker laboratory that is accredited also internationally, though it would be much needed in numerous cases, for example to support the clinical trials of pharmaceutical companies in Hungary, says Imre Kacskovics. There are more and more drugs developed that meet the needs of particular groups of patients only and such groups are identified by their molecular biomarkers. Thus, the participants of such clinical trials need to be selected with the help of these biomarkers.
Molecular biomarkers are molecule-level properties (a protein, a defective gene) in a patient that indicate a disease or even cause a disease. On the tumour cells of approximately one-fifth of patients diagnosed with breast cancer, much more growth hormone receptors (HER2) appear than normally (receptors are proteins on the cell surface that binds hormones or other molecules and then propagates this signal to the cell). Thus, these cells, influenced by a specific growth hormone, begin an abnormal proliferation. This can be treated with an antibody which binds to the receptor and blocks its function. But this is only effective in patients with tumors having high numbers of this receptor and thus this drug can be prescribed only for them.
In the past decades a number of such biomarkers have been identified for many other diseases. One of the goals of ELTE Biotechnology HEICC is to create the first internationally accredited molecular biomarker diagnostics centre of Hungary. Considering that Hungary has no such centre today, Hungarian institutions have no choice but to get the molecular biomarker tests required by clinical trials testing new drugs performed by foreign laboratories. These tests require instruments, expertise and an internationally accepted quality assurance system that no laboratory in Hungary has had so far. According to Imre Kacskovics, the performance of clinical trial-related biomarker tests abroad represents a cost of hundreds of millions in HUF by order of magnitude.
Many of the projects implemented under the Biotechnology HEICC are dealing with oncology topics, that is cancer research. The main focus of the research is on what mutagens are behind the tumorous lesions. But examinations are also conducted to reveal the mechanisms through which certain tumorous cells become resistant to drugs that were initially effective. For if we knew what tumour gene selections are caused by the drugs, it would enable us to use other therapeutic approaches to eliminate the development of drug resistance. Other research groups are engaged in analysing the background of conditions associated with chronic inflammation. For example, our research group is dealing with rheumatoid arthritis and our goal is to be able to diagnose the onset of the disease as early as possible. Others do research into the early-diagnosis opportunities of neurodegenerative diseases, e.g. Alzheimer's disease.
– Our goal is that the knowledge and capacities available at the university should be strengthened towards health industry implementation. The establishment of the above-mentioned accredited laboratory will surely facilitate the achievement of this goal, goes on the HEICC-director. Another one of our goals is to gather all those research groups from the Lágymányos Campus of ELTE and HAS RCNS that are capable of identifying new molecular biomarkers. We have only invited groups that have already reached significant scientific results in the fields of cancer, neurodegenerative diseases and chronic inflammations. Later on, we could use these new markers as a service offered to clients.
According to Imre Kacskovics, although biomarker research is also performed elsewhere in Hungary, our country and Europe are lagging way behind the USA and at some extent Far East in medical research. The Biotechnological HEICC aims not only to generate discovery research data or mere ideas but to turn the discoveries into drugs, or medical or diagnostic procedures.
– During the four years of funding, the participating research groups can develop the knowledge and competence base that could later on be used in the implementation of academic and industrial tasks, argues the managing director. This would enable the groups to fulfil orders coming from the pharmaceutical or healthcare sectors. There were surely examples for industry-university cooperation in the past. These industrial requests were however incidental and industrial partners had to spend a long time with searching for a suitable university or academic groups to participate. We would completely transform this process: first the management of the Biotechnological HEICC would map "inhouse" the available competences and instruments and would compile a portfolio brochure. This way, if, in the future, any pharmaceutical or biotechnological company or any actor in the healthcare industry would look for a research group having certain skills, then we would be able to connect them with the right experts through the management. In other words, we would channel the academic knowledge base towards the healthcare and biotechnology industry.
So, the objective of the Biotechnological HEICC is to use the intellectual potential and the instruments available at the participating working groups more efficiently and more effectively in accordance with the needs of the industrial sector. In consequence, such a Hungarian R&D&I base could be created that would represent outstanding biotechnological knowledge and services even in international comparison benefiting both Hungarian and foreign partners and companies. This is an excellent opportunity that has already attracted the attention of a number of research groups that are not currently members of ELTE Biotechnological HEICC but are engaged in research and development activities in relation to important biotechnological projects. Such are, among others, the researchers of the Faculty of Chemical Technology and Biotechnology of BME who have already informed of their intention to join us. With them, we are working together on the implementation of a research project (2017-1.3.1-VKE-2017-00002) and have also developed the pharmaceutical biotechnology master's programme to be launched this autumn that would also solve the problem of training a new generation of researchers in biotechnology. If we succeed in our efforts, a biotechnological centre that is outstanding also on international level will be established in Budapest.
As evidenced by information available at the web page of the Biotechnological HEICC, since the establishment of the centre, numerous scientific publications have been released about the results of research work performed here. And a new research group was also integrated into the HEICC with its researchers analysing mammography images with the help of deep learning algorithms (for further information on this research, please read our article in which we presented the winners of the call supporting Hungarian internship programmes for Hungarian university students studying abroad.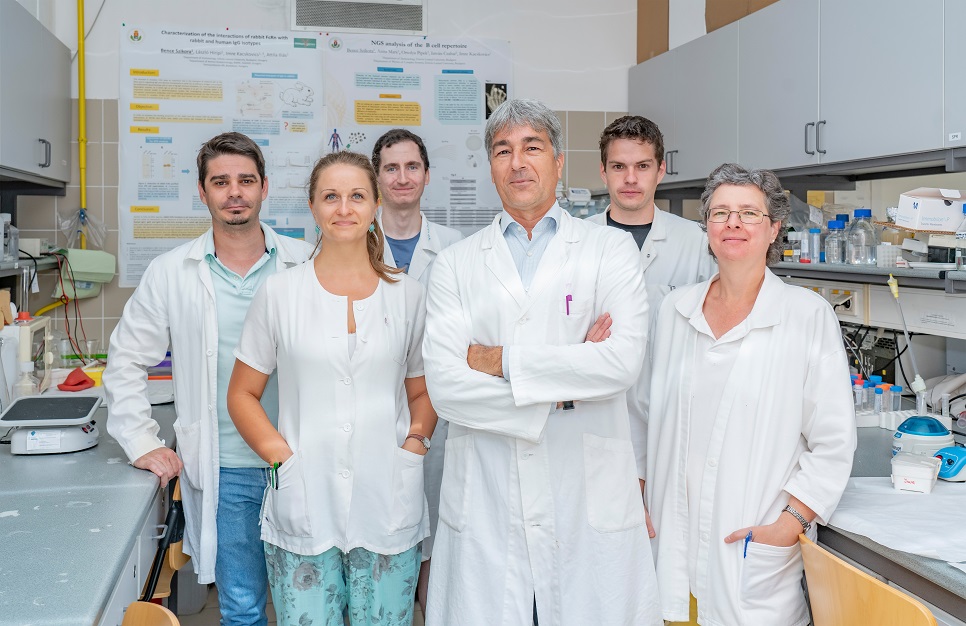 Title and code of project:
Development of a molecular biomarker research and service centre for meeting the industrial demands (FIEK_16-1-2016-0005)
Consortium members:
Eötvös Loránd University, Hungarian Academy of Sciences - Research Centre for Natural Sciences, Servier Research Institute CCLS, CRU Hungary Ltd
Funding granted:
HUF 2,558,627,617
Updated: 07 September 2018