Horizon 2020 Framework Programme
Horizon 2020 Framework Programme
31 January 2012
Modified: 31 May 2018
Reading time: 4 minute(s)
Horizon 2020 funds are direct-access funds awarded in international competition on the basis of excellence: the project proposals are assessed in Brussels against strict criteria such as excellence, highly professional and well-managed consortium and European impact, so member states get access to as much of the funds as their projects can win in the competition. The Horizon 2020 framework programme is one of the pillars of implementing the "Innovation Union", a Europe 2020 flagship initiative aimed at securing Europe's global competitiveness. It is the main financial instrument of the EU's research, development and innovation policy.
The Horizon 2020 provides a framework for all European RDI financing instruments, integrating three previous initiatives (FP – Framework programme for research, technological development and demonstration activities; CIP – Competitiveness and Innovation Framework Programme; EIT – European Institute of Innovation & Technology) and introducing easier administration compared to previous framework programmes and a new innovation-oriented approach. It promotes the creation of innovative products and services fit for everyday use, translating scientific breakthroughs into business opportunities. Due to the simpler structure compared with previous innovation framework programmes, to the uniform rules and to the elimination of bureaucratic barriers, the Horizon 2020 framework programme ensures better access to funds.
It is the primary objective of the programme to turn scientific breakthroughs into market-creating, innovative products and services, so it provides funding in all stages of the innovation chain from research to market entry;

The emphasis is on tackling societal challenges and addressing the problems of the society of the European Union (e.g. in areas such as healthcare, energy, transport);

Participants benefit from simplified administrative rules and procedures, a more transparent funding system, shorter time to contract, and an almost entirely electronic application process.

The programme gives priority to the SME sector: as one of the most important novelties, the Horizon 2020 programme introduces a new instrument for supporting SMEs which covers the entire innovation chain from idea to market. Businesses can apply for funding independently, while previously they were required to apply in consortia.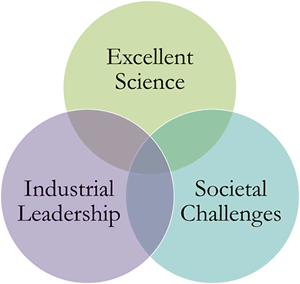 The Horizon 2020 programme is built on three pillars:
Excellent science: aims to consolidate the EU's position as a global leader in scientific excellence.

Industrial leadership: aims to facilitate the EU's global leadership in research, development and innovation through supporting key technologies, wider access to risk and assistance to small and medium enterprises.

Societal challenges: aims to contribute to solving societal challenges that affect Europe as a whole in the fields of key healthcare, food security, sustainable agriculture, energy, transport, climate change, environmental protection, as well as inclusive, innovative and secure societies.

Between 2014 and 2020 the programme has an unprecedented budget of nearly EUR 79 billion.

Distribution of the Horizon 2020 budget:
The programme has earmarked EUR 24.4 billion (among other things, by a 77% increase of funds to the highly successful European Research Council (ERC)) for further consolidating the EU's position as a world leader in sciences.
It contributes with EUR 17 billion to efforts aimed at preserving the EU's industrial leadership in innovation through supporting key technologies with EUR 13.7 billion, granting wider access to capital, and aiding small and medium enterprises.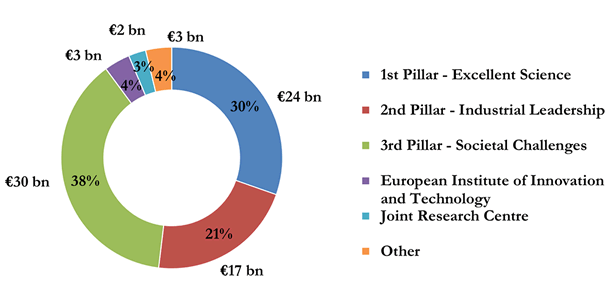 The programme has earmarked nearly EUR 30 billion for the solution of the following major issues affecting all Europe: health, demographic change and wellbeing; food security, sustainable agriculture and forestry, marine, maritime and inland water research and the bio-economy; secure, clean and efficient energy; smart, green and integrated transport; climate action, environment resource efficiency and raw materials; and inclusive, innovative and secure societies.


Documents establishing the Horizon 2020 framework programme
Regulation- COM(2011) 809
Proposal for a Regulation of the European Parliament and Council establishing Horizon 2020

Rules for Participation and Dissemination- COM(2011) 810
Proposal for a Regulation of the European Parliament and Council laying down the rules for the participation and dissemination in Horizon 2020

Specific Program- COM(2011) 811
Proposal for a Council Decision establishing the Specific Programme implementing Horizon 2020

Regulation – EURATOM- COM(2011) 812
Proposal for a Council Regulation on the research and training programme of the European Atomic Energy Community (2014–18) complementing Horizon 2020

Further information: http://ec.europa.eu/programmes/horizon2020/
Updated: 31 May 2018