Survey of Health, Ageing and Retirement in Europe (SHARE ERIC)
26 April 2021
Modified: 26 April 2021
Reading time: 2 minute(s)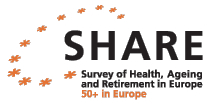 Survey of the health and social implications of aging, as well as the potential public policy responses to these issues in a European comparison.
A multidisciplinary, multicountry panel database of information on the health, use of the healthcare system, financial status and income, socio-economic background, and social and family networks of more than 120,000 individuals aged 50 or older.
Short name
SHARE ERIC
Name
Survey of Health, Ageing and Retirement in Europe
Official website
http://www.share-project.org/
Year of foundation
2004
ESFRI project/landmark
landmark
Headquarters
Munich, Germany
Number of member countries
16
Participating countries
Members: Austria, Belgium, Bulgaria, Croatia, Cyprus, Czech Republic, France, Germany, Greece, Hungary, Israel, Italy, Netherlands, Poland, Portugal, Romania, Slovenia, Sweden, Poland, Sweden, Switzerland
Observers: Denmark, Estonia, Finland, Latvia, Lithuania, Luxembourg, Malta, Portugal, Romania, Switzerland
Hungary's accession
2017
Partner institutions in Hungary
Centre for Economic and Regional Studies
TÁRKI Social Research Institute
Public administration representative

Orsolya Rigó-Ditzendy
National Research, Development and Innovation Office
Vice President for Science and International Affairs 1077 Budapest, Kéthly Anna tér 1.
Phone: +36 1 896 4004
Email: orsolya.rigo-ditzendy@nkfih.gov.hu

Professional representative
Anikó Bíró
senior research fellow
Centre for Economic and Regional Studies
Membership payments
2015: -
2016: -
2017: EUR 10,000 (≈ HUF 3.1 million)
2018: EUR 10,000 (≈ HUF 3.1 million)
2019: EUR 102,550 (≈ HUF 35.9 million)
2020: EUR 187,550 (≈ HUF 67.5 million)
Benefits of the membership for Hungary
In addition to the wealth of information covered, the project's scientific strength lies in its panel structure, which captures aging as a process and its far-reaching consequences.
The SHARE research network provides a unique opportunity to train and internationalise Hungarian researchers dealing with the health and social consequences of aging, and looking for potential public policy responses.
The COVID-19 pandemic has fundamentally changed our lives. SHARE is able to map the direct and indirect effects of the pandemic on the mental and physical health, labour market status and income of the population over 50 years at European level. The first (phone) survey related to the COVID-19 pandemic was carried out between June and August 2020.
Updated: 26 April 2021