Szabolcs Szolnoki
18 September 2017
Last modified: 19 April 2018
Reading time: 2 minute(s)
Tel Aviv, Science and Technology Attaché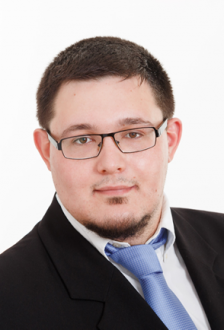 Studies
2016: PhD studies at the Doctoral School of Earth Sciences of the University of Pécs, Institute of Geography. Faculty of Sciences. Topic: Regional innovation ecosystem development opportunities in the light of the geopolitical goals of the Visegrád countries.

2014: Social Policy Expert (MA), Eötvös Loránd University Faculty of Social Sciences.

2012: International Relations Expert (BA), University of Szeged, Faculty of Law and Political Sciences.

Experience:
2017: Attaché for Scientific and Technological Affairs, Embassy of Hungary in Tel Aviv, Israel.

2017: Head of Partnerships at the Innovation Directorate of the Hungarian National Trading House Cls.

2016: Innovation Management Expert at the Business Development Directorate of the Hungarian Trade Development and Promotion Ltd.

2014: Founding President of IKE2020 – generating innovation in Hungary (Association for Innovative Initiatives).

2013 -2016: Head of the Smart Entrepreneurial Competence Centre Network and i.e. Smart Project Manager at the Budapest Enterprise Agency.

2013 - 2014: Policy officer at the Ministry of National Economy of Hungary.

2012 – 2013: Professional Associate at the Hungarian National Assembly.

Contact:
Address:

Embassy of Hungary, Tel Aviv
18 Pinkas Street, Tel-Aviv, 62661 Izrael

E-mail:

Szabolcs.Szolnoki@mfa.gov.hu

Phone:

+972 3 545 6676

Fax:

+972 3 546 7018

Updated: 19 April 2018